Its getting close to that time of year where Edinburgh based charity SiMBA have their annual charity dance and auction. For the last couple of years I've donated a signed limited edition print. Last year's print – "Moody Elgol Dawn" sold for £500 in the auction.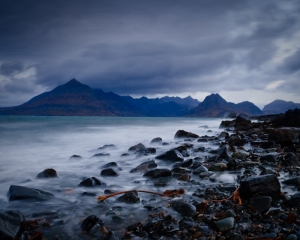 This year I'm donating an image which took me by surprise in terms of how well it came out.
Almost a year ago I went down to a place called Seacliffe near North Berwick, East Lothian to take some photos at sunset with a good friend of mine who is an excellent photographer and a great advert for film photography.  Seeing his work had persuaded me that I should have a proper go of using my medium format film camera. This was to be the first time in three or four years that I would use film. It was quite a strange (but good) experience going back to using a camera that was completely manual and had no screen on the back to review what you'd just taken. Anyway we continued to shoot after the sun had dipped below the horizon and we had an excellent view out to the Bass Rock in the Firth of Forth where the colours were simply beautiful. In the end I came away with this shot below which I honestly didn't think would turn out as well as it did, it has turned out to be one of the photos I'm most proud of.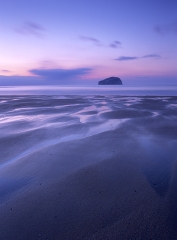 Getting back to the print itself, I've ordered up a 24″ x18″ print which will have a 1″ border all the way round therefore the actual paper size will be 26″ x 20″ – this will be the largest print I've had produced. The limited edition will be restricted to 25 prints and I'm donating print number 1 to SiMBA's auction just I've done for the last couple of years. I hope that matches or beats the amount raised by last year's print. I'll let you know how it goes.
If you would like to know more about SiMBA then click on this link here >>>> Click Here! <<<<
If you are interested in purchasing a limited edition print from me then contact me direct through the contact page on this site.
Welcome to my new website – www.scotlandthroughlight.com
Over the last few months I'd become increasingly dissatisfied with the performance of the old website, it was very slow at times and quite often visitors simply got  a white page instead of a web page. On top of this there had been quite a few instances where the back end services which the site ran on would be unavailable for short period. In light of this I decided to change web host and at the same time take a new web address.
The new website name is derrived from the name of my 2009 calendar "Scotland through the light". I wanted a more professional and relevant sounding name, "Scotland Through Light" just seemed better than "cjtphoto".
There is still work to be done on the site, the About Me page needs to be completed and the portfolio needs populated. Once this has been done I will focus my efforts on the online shop which will allow visitors to order from a selection of prints from me. More information about the prints and their availability will follow soon.
Earlier in the year I mentioned that the "Moody Elgol Dawn" limited edition print that I donated to SiMBA for their charity auction fetched £500, Karen from SiMBA has kindly sent me a few snapshots of what the print looked like framed. I thought I'd share the images with you.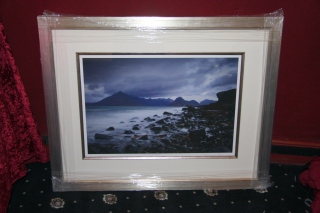 I'm very pleased with how the print looks framed.
I'm hoping to be able to share some more new images with you soon that were shot on film. As soon as I have these scanned then I'll get them uploaded to the portfolio. I'm enjoying using film again and from the results I've seen so far it has been a worthwhile effort especially using medium format rather than 35mm.